My Equipment
Cameras
Nikon D7000
Nikon D600
Nikon D750
Lenses
Nikkor 18-55mm f/3.5-5.6
Nikkor 70-300mm f/4.5-5.6
Nikkor 105mm Micro f/2.8
Nikkor 24-120mm f/4
Nikkor 16-35mm f/4
Nikkor 300mm f/4
Nikkor 70-200mm f/2.8 f/4
Nikkor 1.4EII
Nikkor 1.7EII
Flash
Nikon SB-400
Nikon SB-600
Nikon SB-700
Nikon R1 Wireless
Accessories
RSS L-Brackets
Nikon DR-6 Viewfinder
Nikon ML-L3 IR Remote
Hoodman 3" LCD Loupe
Vivitar Wireless Remote
Hoya HD Circular Polarizer
B+W 6 stop ND
Cokin ND Filters P Kit
Singh-Ray Grad ND Filters
Sandisk Memory Cards
Rouge Flashbender
Harbor Digital Flash Ext
Wimberly Flash Bracket
Nikon SC-28 Flash Cord
Tripods
Manfrotto 190CXPRO4
RSS TVC23
RSS BH40 Ballhead
RSS BH50 Ballhead
RSS Release Clamps
RSS Full Gimbal Head
RSS Macro Focusing Rail
Manfrotto Monopod
Manfrotto 410 Gear Head
Camera Bags
Cotton Carrier System
Think Tank
Belt System
Streetwalker Harddrive
Airport Security
Mindshift Rotation 180 Pro
Tamrac Evolution 8
Domke Photo Vest
Lowepro Nova 190 AW
Software
Spyder 5 Pro
ACDSee Ultimate 10
Photoshop CS6
NIK Software Collection

---
About
Hello, and thanks for visiting!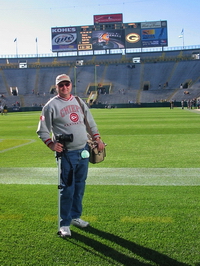 I am a photography enthusiast living in Colorado. I have built this site to share my photography, knowledge, and insights with other photographers and anyone else interested. I bought my first 'serious' camera, a 35mm Miranda, in 1975 and have been involved in photography ever since.
My Photographic History:
In 1979 I began working at a small camera store in the Kansas City area. While working at the store I worked as a 2nd shooter for a few weddings and with the owner of the store we started a company selling images in the corporate interior design area. Through contacts made while working at the camera store I acquired a customer service position at a Kansas City custom photo lab. But my interests were really in the production area making custom prints and other lab services. After teaching myself black & white and color printing using my own images I eventually became a custom printer at the lab.
The next phase of my career found me moving from the custom lab to working for a lab equipment manufacturer in the early 1980's that was revolutionizing the professional photofinishing industry by retrofitting current analog printers with updated computer electronics and tying these printers into a lab wide computer network. Over the next 17 years I worked as a technical service technician, technical sales, training consultant, technical liaison between engineering and our customers. I also did a 5 year stint as the production manager at a lab in Tacoma Washington. During this period I worked at and form relationships with some of the major labs in the industry, a few that are still in business today. Miller Professional Services, Bay Photo, and Full Color to name a few. Since leaving the photofinishing industry in the late 1990's I have worked as a software engineer & manager, developing software for the land data industry and the financial services industry.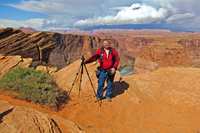 2010 was the year I got serious about photography again and purchased my first digital camera, a Nikon D90, which was replaced by a Nikon D600 after the D90 was stolen a few years ago. Today my main camera is a Nikon D750 along with a Nikon D7000. I now make a conscious effort to photograph when I can and plan on several trips each year specifically for photography.
Free feel to contact me via the contact page if you have a comment on my images, a question you would like to ask, or anything else about the site. I have elected not to allow real time comments on my site for now to avoid the management and headaches associated with monitoring for spam and the like, sorry for the inconvenience but this overall is better for you and me.
Recommended
Stores

Englewood Camera

Adorama

B&H Photo